Point of Sale Information
In addition to our advice on your choice of hardy orchids, we do our utmost to help you to present them in an elegant, meticulous and well-organized manner.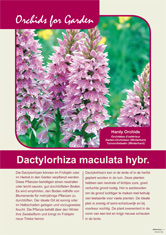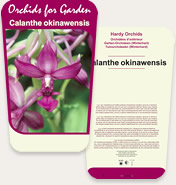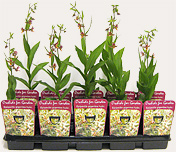 Naturally, all our adult plants that are delivered in pots (11cm pots) come with attractive and informative labels. You will find on them the maintenance and care information in 4 main languages (FR, NL, EN and DE). On request, it is also possible to have other languages printed, or to have your logo or a barcode put on them. Contact us…
If necessary, we can also supply you with four-colour data sheets (A4 format) reproducing all the necessary information to help you to discover the product and to make your choice.
Moreover, for an ideal presentation, we would suggest our CC container banners, which will draw attention to your retail outlet.
Finally, in order to help you as a consumer as much as we possibly can, we can also supply you with Phytesia potting soil, especially formulated for optimal development of the garden orchids…
Don't hesitate to contact us to obtain more detailed information