In order to meet your company's needs as well as possible, we offer our hardy orchids at three development stages: in vitro plants, young plants and adult plants of flowering size.
In Vitro Plants
The in vitro seedlings coming from our laboratory constitute a healthy starting material for new cultivations.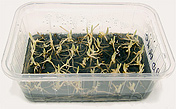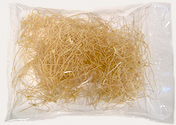 We offer about fifty varieties that are available at this stage.
The first flowering, depending on the genre, will be obtained after one year of cultivation (Epipactis, Bletilla), 2 or 3 years of cultivation (Dactylorhiza, Orchis), or even 4 to 6 years for certain varieties (Cypripedium).
Delivery
The vitro-seedlings are available from September to April. They are delivered by express courier in sachets of 10, 100 or 1,000 plants. For the deliveries out of the EU, a plant health certificate must accompany the shipment.